Best Android Lock Screen Apps – In today's Technological era of smartphones, not only a unlocked screen helps us to perform most of the things, but we also expect Lock screen to help us to provide quick information. The lock screen of your Android phone is not just there to show a good wallpaper. It is an important place to use as a navigation screen and more. In past few years, Android has made lots of changes to improve the lock screen. But there could be many reasons for not liking the lock screen of your phone. So, there are lots of lock screen replacement apps to try and see how you can improve your productivity just by changing the lock screen.
Best Android Lock Screen Apps
So friends, let take a look at our list of " Best android Lock Screen apps of 2017 ":-
1. Next Lock Screen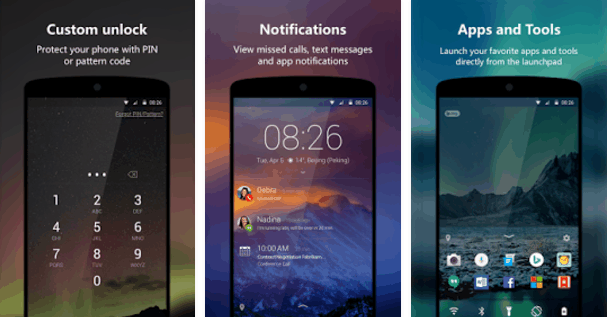 Download Next Lockscreen From Playstore
Microsoft's Next Lock Screen is another cool lock screen for Android. It wants to keep things simple but offers more content and features. It keeps track of your apps usage to know what apps you use at different locations. Then it shows you the same apps at that places on the lock screen.
Features of Next Lockscreen App:-
– Custom unlock: protect your phone with a PIN or pattern code. Fingerprint unlock is available on hardware-supported devices. Smart lock based on location (home and/or work).
– Notifications: view missed calls, text messages, and message notifications from apps like Facebook, Gmail and WhatsApp.
– People: easily call or text your favorite contacts from the lock screen.
– Apps: launch your favorite apps with our built-in app launcher.
– Tools: quick access to the Camera, Flashlight, Wi-Fi, Bluetooth, and more.
– Weather: check the local weather with automatic updates.
– Calendar: view your upcoming events, complete with time and location. Receive summaries on the meetings you have for today and tomorrow.
– Music player: control your favorite songs and playlists. Next supports the most popular music apps such as Spotify, Audible and Pandora.
– Wallpapers: choose your own image or from our gallery of photos. Select the Bing Wallpaper of the day to receive a beautiful new image on your screen every day.
Also Read:- Top 5 apps to protect yourself
It also brings beautiful Bing wallpapers to your lock screen. You also get weather information, time and notifications. Along with usual unlocks, this app also supports fingerprint unlock.
Next Lock Screen is available for free to download.
2. Hi Locker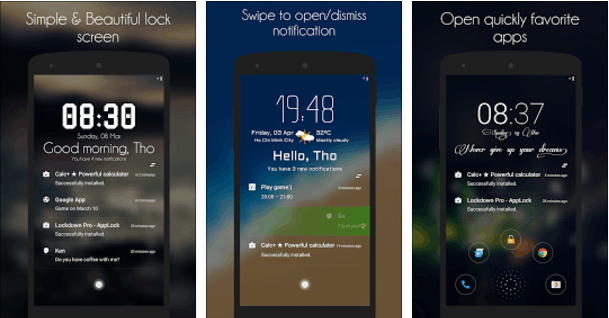 Download Hi Locker App from playstore
Hi Locker is a good lock screen App for Android. It offers a mix of older Android lock styles and modern design. It offers all different security locks. it also lets you set the trusted device and network to unlock your phone automatically when in the range of that network or device. This is second app in our list of Best android Lock Screen apps.
Hi locker is a lock screen that was developed based on the mix of classical "lock screen" on the older versions of Android, with the modern of android Lollipop, include notification system on lock screen, and Material design style. Hi Locker will bring you an experience that is both new and familiar, actually useful to you.
Features of Hi Locker App:
★ With 3 unlock style: Classic, Lollipop, iOS.
★ What's next: Show/Add events, weather in the next few days on lock screen.
★ Hi Locker with smart feature will automatically give some greetings to make you feel funny and friendly when using such as: good morning, good evening…
★ Enter your name: You can enter your name or favorite status on lock screen.
★ Hi locker displays notification on lock screen, you can easy to view, or delete notification by swiping left or right.
★ Wallpaper: Easy to change, add or delete wallpaper. Automatically change wallpaper after a period of time, blur wallpaper when you have new notification…
★ Flickr: Random wallpapers from Flickr.
★ More watch's user interfaces for choosing.
★ Weather: Automatically displaying weather information after a period of time.
You can quickly launch an app from the lock screen, check weather or notifications and more. You also get the option to customize almost everything.
It comes with some very cool wallpaper that automatically changes after a specific time period. You can set this time as per your own interest.
This Lock screen app is free but offers in-app purchase and remove ads.
3. AcDisplay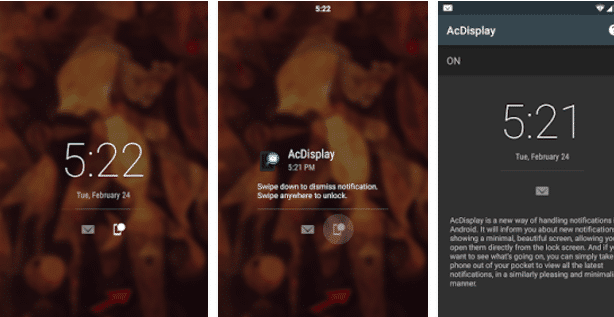 Download AcDisplay App from Playstore
11If you like things minimal, AcDisplay lock screen Android app is for you. It brings notifications on the lock screen. You also get various shortcuts on the notification. You can also blacklist apps to stop seeing notifications from them on the lock screen.
Features of AcDisplay App:
– Great design and awesome performance.
– Active mode (uses the device's sensors to wake your device up when you need it.)
– The ability to use AcDisplay as lockscreen.
– Incredible level of stability.
– Inactive hours (to save some battery.)
– Enable only while charging.
– Lots of another features such as: Blacklist, Dynamic background, Low-priority notifications and much more.
It also comes with Active Mode that works similar to Android's Ambient Display. It automatically detects when your phone is picked up to show you notifications.
AcDisplay lock screen app is free to download.
4. SlideLock Locker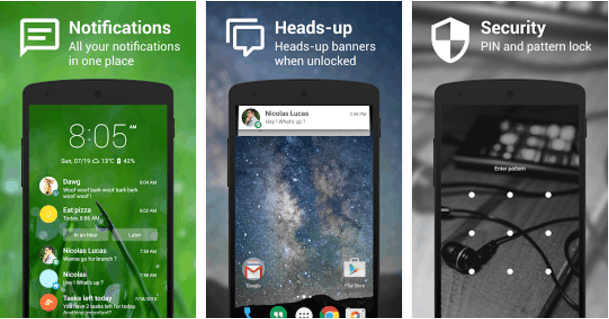 If you have just moved from iPhone to Android or you like the lock screen of iPhone, the SlideLock Locker app is for you. You can unlock your Android phone just by sliding from left to right. You get actionable notifications where you can tap to go to them or swipe to dismiss. If you slide from right to left, it opens the camera.  This app deserves to be in our list of Best android Lock Screen apps.
SlideLock is a simple and clean locker with powerful notification features. Never miss your notifications again with the best Android lockscreen
Features of SlideLock Lockcreen :
• Simple and clean android locker replacement
• Swipe the screen to the right to unlock, swipe it to the left to access the camera
• Actionable detailed notifications, double tap to open, swipe to dismiss
• PIN and pattern security
• Screen wakes up for a short time when receiving a notification, allowing you to perform a quick check without having to touch the device
• Custom settings for each app (sound, vibration, …)
• Notification banners when your device is unlocked
• Low battery usage
• Time and location reminders
• Material design
Also Read:- android vs iOS:- the security game
5. Picturesque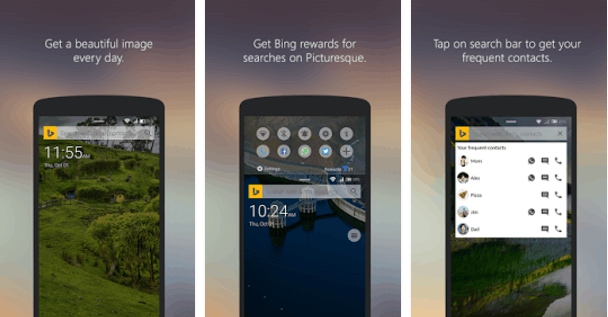 Picturesque is also a cool lock screen app by Microsoft. It also brings you Bing wallpapers daily along with several features. You can search for apps, contacts or the web direct from the lock screen. It also offers various controls and widgets.
It also brings live Cricket scores, latest news in categories and access to camera direct from the lock screen.
Picturesque Lock Screen by Microsoft is one stop solution to all your lock screen problems. Now secure your android device with a beautiful background integrated with features like Bing Search and app shortcuts to increase your productivity.
6. Echo Notification Lockscreen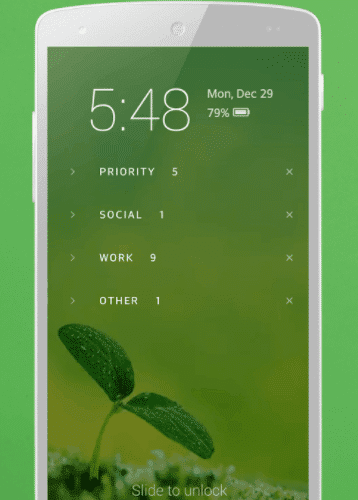 Download Echo Notification Lockscreen App from Playstore
Echo Notification Lockscreen is another cool and good looking lock screen app with a minimal interface. There are not many options to customize the interface, but you get lots of good features. It claims to be the fastest lock screen app. This app is last on our list of Best android Lock Screen apps.
It shows complete notifications on lock screen. If you are listening to music, you get music control options. It auto groups alerts from apps into groups like social media, work and more. So, you can deal with them in bulk.
You can also Snooze notifications so that you can get back to it later when you are finally free.
Features of Echo Notification Lockscreen App:-
★ Instant notifications – Echo shows the complete notification and not just a summary. Never miss an important message or notification with Echo.
★ Minimal design – Cool lockscreen design. No effect on your battery
★ Music controls – Control music without unlocking
★ Automatic Grouping – Auto groups your Instagram alerts into social and your Gmail messages into work. Similar alerts are bundled together so you can deal with them all at once.
★ Snooze – Snooze notifications to come back at a later time or place you're ready to deal with them: tomorrow, when you get home, or whenever you like.
★ Lockscreen security – Protect your phone with Echo's pattern lock.
★ Personalize – Personalize your lock screen design with wallpapers and notification settings
Echo Notification Lockscreen is available for free but with options to in-app purchase.
Also Read:- Top 7 apps to take better photos at night
Final Words on Best Android Lock screen apps of 2017
So friends, I hope you like our list of " Best android Lock Screen apps of 2017 ". Normally lock screen can be used for enhance looks and check time only, but now you can simply customize your lockscreen. But This is not the end of this list. There are lots of other cool lock screen apps available for free and paid. We only focused on best Lock Screen free apps with good features, but your opinion can differ from our opinions. If you know any other lock screen app that is worth to be on this list, then simply drop a comment below in comment section and we can take care of your comment 🙂 🙂 :). Till then, Build Best, Stay Cool!