Best tips to increase power button life – On our smartphone, power button plays the vital role in smartphone handling process. I think we use Power button feature more than volume buttons in a day. That's why every smartphone has the power button so that it can handle all the basic needs of your device.
If we want to unlock the device, we use the power button, if we want to see the time, we want power button and so on. It is the most used hardware button which handles hundreds of processes at a time. But the loose point it:- power button becomes softer and softer for human comfort but on the other hand, the life of that button also reduces ad it is becoming delicate over the time.
So, how can we protect our power button so that it can last long? Perhaps, the easy way out to prolong the life of these hard buttons is by avoiding their use on a regular basis and use it casually when needed. Then which thing and software handle all the processes of that small power button? Let's discuss on this. And for proving my point, today I am coming with the Best tips to increase power button life.
Best tips to increase power button life
So my friend without wasting any further time, let's get started with our list of Best tips to increase power button life.
1.) Use the Widgets for turn off the display
You can use the widget which will turn off the display and lock your smartphone after tapping on it. As the difference between iPhone and Android device if that you can easily add any widget to your device home screen for ease, so why not use it efficiently?
Basically, every smartphone has that widget which turns off the display after tapping on it, but if your device hasn't that widget, the play store is for you. You can search on play store regarding this and download the app which has the best rating as well as maximum downloads and then uses that feature.
You can easily add the widget by tapping one time on home screen >> widgets >> select the widget and long tap on it >> place it on the home screen wherever you want.
Also Read:- 5 factors which prove that android is better than iPhone
2.) Use double tap to wake Gesture
Double tap to wake up is a gesture which will turn on the display when you double tap on the screen which is turned off. But the sad hang is that there are only a few kernels which are supporting this gesture.
For turning on the gesture, you should head on to Settings >> Display >> turn on "double tap to wake". This is the basic path to turn on this gesture. If you wouldn't find this gesture on your device, then either your device doesn't have this feature or you can comment along with your device model to crosscheck it.
If your device doesn't have this Double tap to wake feature, then I will recommend you to flash any custom ROM on your device which has that gesture feature. And Keep your device updated to the latest and see if this is available on your device.
3.) Use Screen timeout / Sleep feature
You should use the sleep feature which will automatically turn off the display and lock your device when you didn't use it for a particular period of time.
Mostly all of the Android devices have this feature as this is the basic feature of Android you can set it by going to- settings >> lock screen >> "sleep" or settings >> Display >> sleep, and tap on it. You will find the interval range from 15 seconds to never.
I will recommend you to set that option for 1 minute. I know this is a very small time period but this really worth it. Try it once!
Also Read:- 8 interesting hidden features of google chrome
4.) Use Gravity Screen App
Gravity Screen helps you to do almost everything once you have unlocked the device, but how about unlocking your phone without the hard power key? You can use apps like Gravity screen for this simple purpose.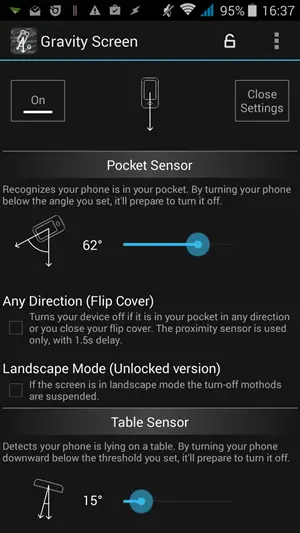 The app works automatically without root access and presses the power key for you every time you take your phone out of your pocket or pick it from your table. It smart and works very efficiently. The app uses proximity and gravity sensor to recognize when you pick your phone from any state and eliminates the need for a power button. Pro version will offer some added features and improved performance. You can pause Gravity Screen from the notification panel.
You can also use apps like Swipe lock and Knock Lock to conveniently lock your screen. If you are using AMOLED display, you can use apps like Knockr to set unlock pattern even on the lock screen.
Also Read:- 15 whatsapp secret and best features you don't know
So friends, above are the Best tips to increase power button life. Do you like these tips or want to share any other tip with us and our viewers? Share your thoughts and feedback by commenting below or Simply drop your comment down below respectively and I will check and add your recommendation along with your name. If you have any query regarding anything described in this article, you can simply drop a comment down below and I will try to solve your query as fast as possible. Till Then, Build Best, Stay Cool!