Now a days, one application named " Sarahah " is trending on internet. Sarahah is one of the app on playstore which deserved to be in the list of " most trending apps of 2017″ because of it's uniqueness and simplicity.
But Do you ever think :-
Is this Sarahah app really make you anonymous?
Is it safe to use Sarahah App?
How to get started with this app?
how it works?
Now it's time to get a perfect answer of all of these questions my friend.
You might have noticed a gradual ascend of one of the apps called 'Sarahah' making it to the top of your social networking platforms in the recent weeks. The messaging app that primarily focuses on privacy, was developed and introduced by Saudi Arabia-based ZainAlabdin Tawfiq back in June. The platform quickly gained recognition in regions like Egypt and Saudi Arabia, a BBC report reads. It seems like Sarahah has now become an instant hit in India as well.
What is Sarahah ?
The Sarahah app is designed to allow users to send each other anonymous messages. The word, 'Sarahah' is an Arabic word for 'honesty,' or 'candour,' and allows users to receive honest feedback about what people think about them. The platform was initially introduced as a form of workplace feedback tool, but quickly gained recognition among the youth when teens started making use of it on Snapchat. "Sarahah helps you in discovering your strengths and areas for improvement by receiving honest feedback from your employees and your friends in a private manner," the app's description reads.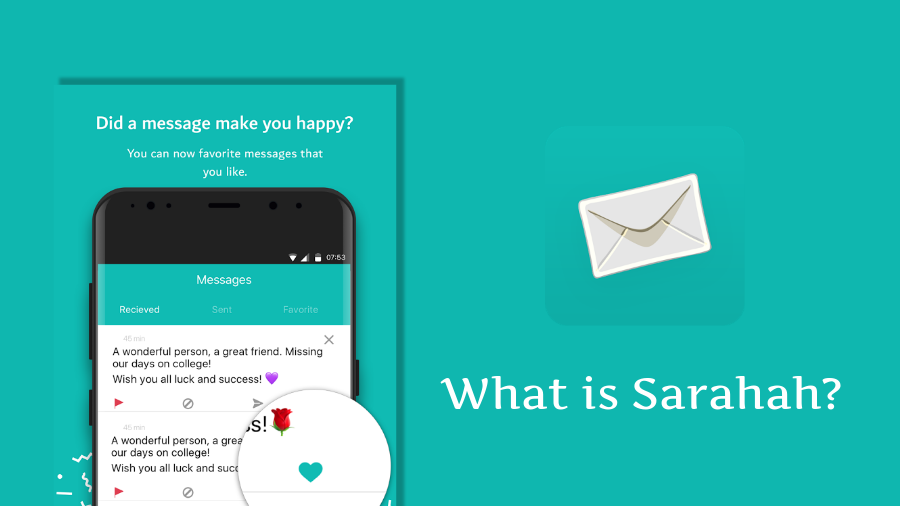 Also Read:- All about iPhone 8 you need to know
What is the purpose of Sarahah ?
The app's main objective is to allow users (at work) to discover their strengths and weaknesses in terms of how they conduct themselves at office. Since the platform has gained popularity outside of the office as well, many use it as a tool to communicate honestly with one another. Users have no means of communicating directly, and there is no reply mechanism either. Moreover, the users have no idea as to who a particular message is from.
How does Sarahah app work?
Like any other app, after you've downloaded Sarahah, you'll have to set up an account. Simply put in your username, name, email, and enter a password. This messaging app doesn't require your mobile number, which makes sense given this is about anonymity.
Once logged in, you can share your Sarahah link (it usually reads xyz.sarahah.com) on Facebook, Twitter, WhatsApp or copy the link and post it to a different social network. Anyone who has the link will be able to send you messages. This could be friends, even strangers who are on the app or those who are not even on the app.
For sending a message, a user has click on the link, which will open a text box with a message, "Leave a constructive message." Obviously, the constructive part is lost on most folks.  People can type in their message and hit send. When a user receives the message, they just get the text and don't know who sent this particular message.
Getting Started with Sarahah App
Once you download the app you register as a new user, it brings you to the homepage. There are four different tabs at the bottom on the app. The first being messages. This page shows messages that are sent to you. Within this page you can toggle back and forth between messages, favorite messages and messages sent. Messages that are sent to you can only be made public if you share them.
Messages that you send and are sent to you are all anonymous. Unless that user discloses their identity within the message. As of right now users can not reply to messages they can only flag, dislike or favorite messages.
The second tab is an explore page where you can look up other users and find friends on the app. The third tab is a discover page that is still in the works. When you click on that tab it says "Wait for us 
 We are preparing a new feature…"
The final tab is your profile. Your profile shows your Sarahah handle and profile picture. It is also there that you can share your profile's link to all of your social posts. When on your profile you can access your settings by clicking on the wheel icon in the top right corner.
Settings is where you can edit your profiles public settings. You can make your profile public, searchable or make it so only other registered Sarahah users can send you messages. This is important because it lets you control who has access to your messages.
Also Read:- top 10 upcoming smartphones that are worth waiting for
What else does Sarahah offer? Is it like a regular messaging app?
No, this is not a regular messaging app, and other than sending random anonymous messages to people it doesn't offer much. The tabs on the app are limited to Messages, Search, Explore, and Profile. All received, sent and favourite messages appear in 'Messages' tab. When you receive a message you can favourite it or block the user or even report it. Though what happens after you report a message is unclear.
The 'Favorite' tab shows messages where you have tapped the heart symbol. Sent shows all the 'constructive' criticism you have been sending on the app.  Meanwhile 'Search' tab lets you search for people to send them anonymous messages.  Next up, there's an 'Explore' tab which isn't live yet. "SOON. This feature will be available next update, be alert!," reads the page. We're not sure what the developers plan to do with this.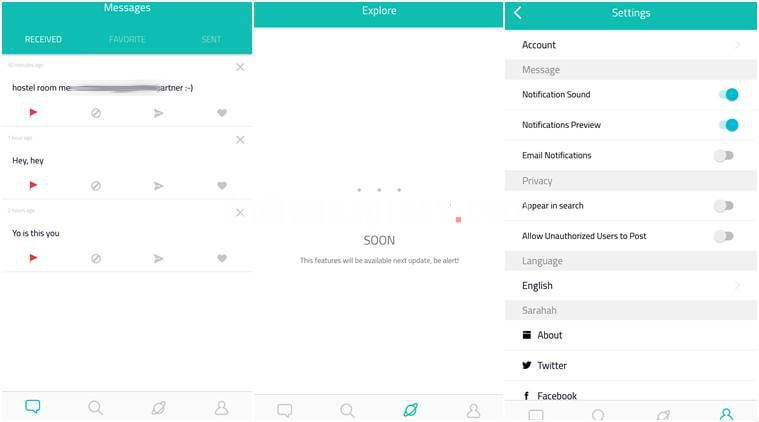 Should you be using Sarahah ?
Sarahah is masquerading as a fun app to let friends or colleagues know their irritating public habits. But these things can quickly spiral out of control. The internet still remains a place which brings out the worst in people and with anonymous messaging there are grave risks attached.
Also Read:- 5 myths about charging you should avoid to improve battery capacity
Why should you not use Sarahah App ?
Sarahah is perfect territory for cyber bullying.  The problem is that avoiding some of the hate on the app is not easy. You can report a message, block user but what happens to those who send abusive messages is unclear.
Further you can go in the settings and disable the option to 'Appear in search'. Another setting ensures that non-registered users can't message you on the app. The big problem is there's no way of knowing who's sent you a message.
The app shows four icons below each message – a red flag to report message, block icon, reply, and a heart icon to mark message as favourite. Don't mistake the reply button for actually replying to the person, who sent you the message. Reply, for some weird reason, lets you forward a message to friends via social media platforms such as Facebook, Messenger, Snapchat, WhatsApp, and more.
So my friend, i hope you will get to know everything about Sarahah App, [ What is Sarahah?, how to use it?, is Sarahah useful? and should you use Sarahah app or not? ].  In-case if there's anything you didn't understand or want to know more about Sarahah app, feel free to ask us through dropping a comment below, and i will answer all of your questions. Till then, Build Best, Stay Cool!