Top 5 apps to Protect Yourself- Today, Smartphone is one and the only Gadget which is mostly attached with us anywhere, it is becoming the integral part of our life. We can do almost anything from smartphone, Nowadays, you can do anything from the smartphones, whether they have to use as a entertainment, productivity and security, from taking selfie for the sake of entertainment or to check out many e-mails from the office work. But insecurities are everywhere. There are many situations in which we need someone to help out.
No worries, you can use smartphones to deal with such troubles. There are some great apps on the smartphone which can help you in the event of a life-time, the Top 5 apps to Protect Yourself at the time of trouble.
Top 5 apps to Protect Yourself at the time of trouble:-
So friend, let's take a look at our list of " Top 5 apps to Protect Yourself – Will secure you at the time of trouble " and need someone to protect you:- 
1. SAS Survival Guide:
SAS Survival Guide app app is made on the basis of the British SAS Trainer's book and it can work in almost every living conditions. This app works offline, except for some videos.
During normal use, this app does not require an active internet connection however some assets, like videos, need to be downloaded and features like social sharing will be disabled without an active internet connection.
Also Read:- Sarahah App- Should you use this?
Features of SAS Survival Guide App:-
* Full text of the bestselling book optimised for the iPhone and Android (over 400 pages)
* 16 videos providing invaluable survival tips from Lofty himself
* Photo galleries of Animal Tracks, Knots, Edible, medicinal and poisonous plants, sea creatures and snakes
* Morse Code signalling device
* 100+ question quiz to test if you've got what it takes to survive
* Survival Checklist
* Sun Compass
* Search tool to scan entire book by subject
* Extreme Climate Survival: sections on surviving Polar, Desert, Tropical, and Sea
* Comprehensive First Aid section
2. Fake Call:
If you have to get out of trouble immediately, then this app is absolutely great. Through this app you can make fake calls on your own phone. You only need to set the call time and call duration. This app will duplicate your phone and you can get rid of trouble by making an excuse.
The most professional and beautiful fake caller id application in Android Market! Get out the trouble, give yourself a fake-call id. Simulate a fake caller id to rescue yourself from an awkward situation, like boring meeting, annoying conversation, meaningless interview. So, according to it's features, this came at second place in " Top 5 apps to Protect Yourself at the time of trouble ".
Features of Fake Call app:-
The name changed to "Call Assistant" when you installed fake call in you phone;
Simulate Fake calling screen as real as your different phone: Samsung UI, Sony Erisson, HTC Sense,ICS, etc
Customize fake caller id, picture, number, in-call voice and ringtone for a new fake call ;
Schedule multi fake calls ;
Fake now, past, even in the future;
Select fake caller id from your contacts;
Also showed in your fake call history;
Fake call ringtone ,vibration and fake call voice can be customized ;
Play Fake voice after fake call answered;
Share Fake caller id with your friends from Gmail, Messaging and Twitter;
6 different Android system fake calling page to choose for your quick fake call;
Customize and manage the different in-call voice and ringtones for each fake call ;
Fake call quick set ;
Schedule a new fake call at a specific time;
Fake call logs
This app is available free for Android and Apple users.
3. Life360 Family Locator:
This app is the best app in this list. Through it, which members of your family are at what time they will be able to know. At the time of trouble, pressing the Panic button will alert the rest of the members through text, e-mail or notification.
With Family Locator app you can track your kids & retired parents and always know your loved ones are safe
"Great app Not only does it perform well. It gives you a piece of mind. Not only can I check on my boys..I keep myself visible for my boys to keep track of me. I am medically retired with some serious health issues, so having the ability of them checking on me helps them out too."
Also Read:- iPhone 8 rumor round up
Features of Life360 Family Locator App:-
Create your own groups, called "Circles," of loved ones, friends, teammates — whoever matters most and chat with them in Family Locator for FREE.
View the real-time location of Circle Members on a private family map that's only visible on Family Locator
Receive real-time alerts when Circle Members arrive at or leave destinations (Eliminate disruptive "Where are you?" texts)
Track stolen phones or lost phones
Enjoy a more diverse array of features and benefits than those found on similar apps
Locate both Android Phones and iPhones with Family Locator!
4. Nirbhaya App: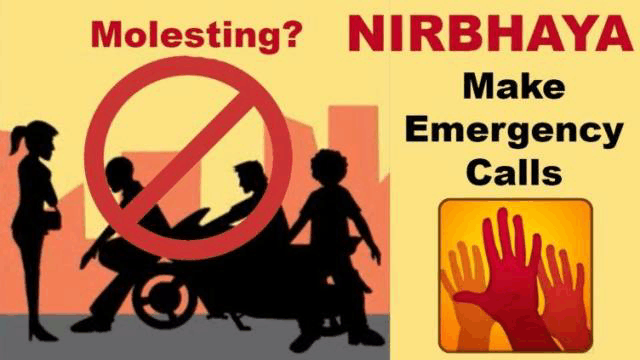 Through this app you can mark all those places which are not safe for the womens. The special feature of this app is that once the power button is pressed in the event of trouble, the saved contacts will be alerted in the list already.
Nirbhaya: Be Fearless© is an android emergency application, which can send a distress call or emergency message to a specified contact or group in an emergency situation faced by a woman or any other individual in general. Correct Location, Information and Communication, with and from the app is dependent upon the basic hardware/software requirements, like – Active Data plan, SMS plan, minimum talk time and active GPS functionality. It deserves a place in the list of Top 5 apps to Protect Yourself at the time of trouble.
Features of Nirbhaya App:-
It sends an alert by way of an SMS or phone call or Facebook Post with the person's location to the configured group through the Global Positioning System (GPS).
Nirbhaya app can easily be used as a safety utility that will help create a safe haven for women/people in the cities and countries where they live.
It can be used in case of attempted molestation, accident, family Emergency, etc.. through pre-defined text messages.
The users of Nirbhaya: Be Fearless© App are also required to submitpersonal details such as email ids, residential address, blood group and emergency contactnumbers.
Users can configure their own list of contacts including police and other close relatives and friends.
5. Himmat App:
This app was launched by Delhi Police for women's protection. Police will find the location and audio-video of your phone as soon as you press the SOS button.
This is a free application highly recommended for women in Delhi launched by Delhi Police.
User needs to register in app after downloading from store to get registration key(OTP) which needs to be entered to complete application configuration. As soon as the user of Himmat app raises the SOS alert from the Himmat App, the location information and audio-video is transmitted to Delhi Police control room. Delhi Police can then immediately send the nearest Police help to the victim..So, this is the last app in Top 5 apps to Protect Yourself at the time of trouble.
I hope you Get to know our favorite list of " Top 5 apps to Protect Yourself – Will Secure you at the time of trouble ". if you want to recommend us any other app to add tat in our list, Simply Leave a comment Below and we will analyse that. Build Best, Stay Cool!